I heard about these online, where most of my temptations come from! They're new by bareMinerals for Summer 2013 and they look AMAZING. I've browsed a few reviews here and there and I've heard nothing but good things.
These lipsticks are very creamy, soft, and buttery, yet still super pigmented. They're great for your lips as they're packed with an infusion of minerals, a moisture-loaded hydrating complex that includes Abyssinian Oil and Omega Fatty Acids, and vitamins A, C, and E. But not only are these lipsticks nourishing with their antioxidant rich formula, they also help improve lip fullness with a NO TINGLE lip plumping effect! Top it all off with the nice glossy finish they leave behind and its perfection.
The specific colour that I first saw that caught my attention was one that one of my favourite beauty blogs swatched, called "Go The Distance".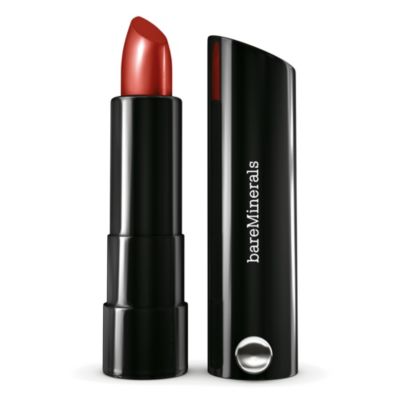 bareMinerals Marvelous Moxie Lipstick in Go The Distance
Fly High, Never Say Never,
Go The Distance
, and Call The Shots
*photo NOT mine. Credit to the fabulous VampyVarnish.*
Go The Distance is sort of a softer colour; sort of peachy, corally, tangerine coloured. Very pretty. So I went over to their website to check out what other colours they have, and there is quite the selection! In addition to Go The Distance, the collection includes:
Get Ready - warm rosy pink

(also pictured below)

Make Your Move - soft neutral pink
Live Large - berry rose
Raise The Bar - pearlescent raspberry
Break Away - luscious mauve

(also pictured below)

Finish First - caramel cappuccino
Be Free - creamy pink nude
Rise Up - luminous bronze
Speak Your Mind - blushing pink
Light It Up - vibrant melon

(also pictured below)

Lead The Way - rich plumberry
Never Say Never - fuchsia pink

(also pictured above)

Risk It All - energetic magenta
Stand Out - rosewood
Call The Shots - rich scarlet

(also pictured above AND below)

Fly High - lavender pink creme

(also pictured above)

Live It Up - cherry red
The specific colours that appealed to me and that I'll be adding to my "must-try" list are Get Ready,

Break Away

, Light It Up, and I might even be swayed to branch out and try Call The Shots.
Get Ready
Break Away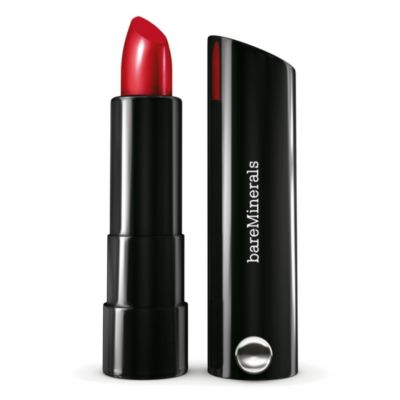 Light It Up
Call The Shots
Basically, these lipsticks are beautiful, long-lasting, quality products that I am REALLY looking forward to trying! Plus, they're cruelty-free! If or when I do get some, I will definitely post a review about whether or not they live up to my expectations!
Where To Buy
Canada:
Sephora
U.S.A:
Bare Escentuals Boutiques, Bare Escentuals Outlets,
Macy's, Dillard's, Nordstrom, or Ulta.
International:

Check your local availability here.
Thanks for reading! Let me know if you own or are planning on buying any of these fabulous shades and tell me how you like them!!